Today, I am starting to publicise bits of my personal manifesto as a mobile social researcher; the values at the core of my ethos are radical self-expression and visibility, integration of work with other aspects of life in a sensitive and harmonious way, mindful approach to research and the status of a social researcher, accountability, de-centralisation and autonomy of research process and production, engagement with larger audiences, meaningful collaborations.
Today it's about visibility and radical self-expression:
Do not hide who you are
Those of us working in academia, we live double lives, maybe triple, that is if we stubbornly insist on having some other life outside our work. We hide, we obscure, we conceal. We hide our gender identities and sexual orientations (we're not supposed to be thought of as sexual beings, unless it's briefly in the context of marriage or reproduction) and – Heaven forbids! – we'd rather have our left hand chopped off than admit to any paraphilia or any approach to relationship styles outside the society-approved statistical norm [read hetero- and mono- normativity, preferably long-term coupling, or celibacy – which is still acceptable for the romanticised idea of the ivory-tower scientist]. We hide our struggles with mental illnesses, in spite of growing evidence that afflictions like depression run deep among academics. We are ashamed of openly admitting to resonating with something beyond scientifically sanctioned knowledge [read spiritual if you wish, I'm not a fan of the term]. And while it's OK to be leftist, proclaiming radical anarchist views is most likely to elicit superior smiles.
Gender divisions are not uncommon here. If you are a female academic, you are supposed to render yourself even more invisible, especially after age 30. Women are more likely to be discriminated against based on what they wear (note: I like to wear veils and be a desert queen), on grounds of being "too sexual" or not professional enough. In response to this article, one of my colleagues recalled her experience at Trinity College Dublin as a visiting research fellow, with the facilitator of a discussion group she attended – a grey haired black suited man – shaming her for what he obviously considered unprofessional attire (she was wearing jeans, hiking shoes and a simple, black cotton blouse) with the words: "You certainly don't look like a fellow!" As an imaginary restorative and cathartic act of justice, in my head, I am marching into the room with two of my Burner friends, both research fellows – a German dominatrix in her shiny red catsuit serving glittered bloody maries, the "I was once kicked out of an orgy because I was talking too much" kind of gal, and another shibari aficionado Italian chef, in his regular faux-fur on skin, kilt plus military boots – and I am asking my German friend to give one of her rope strap-ons to that facilitator, and then demurely invite him to shove it up his arse, together with his sexist opinion nobody asked him for.
It is so scary to show up and be seen, as Brené Brown would say, but it's not the critics who matter most. The alternative would be to orphan the parts of ourselves others might disapprove of, and that is a much more terrifying thought. For me being visible is part of the radical self-expression principle of Burning Man, which holds a tremendous therapeutic power.
I am a feminist.
I am an anarchist.
I am bi-sexual/ heteroflexible.
I am kink-friendly, sex-positive, and polyamorous. I practise relationship anarchy.
I do tantra, shamanic stuff and shadow work.
I occasionally do drugs (or more precise entheogens), which I use to expand my awareness, sensory field and consciousness, and to connect with loved ones.
I am a European Burner. I attend festivals and parties with people who feel free to be themselves, including naked, silly, playful or any other way childish, sensual and sexual. Free.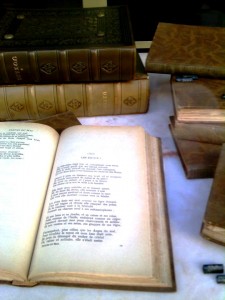 Les Fleurs du mal, spotted in Munich, 2011