Thursday, May 12, 2016, Ilha Grande
Life's slow on the islands, they say. I'd probably have to reach a more corporate, work-prone environment in order to get anything done. Some library in Rio. I've booked a hostel, in spite of chill memories of past horrifying experiences involving bedbugs and cockroaches in the shower. Gotta stay on the budget. I did an island tour today, although the weather was bad for most part of the trip. The beaches are indeed lovely, but the postcard versions you see on the internet do not tell you how everything is a pre-packed deal for gringos, for silly tourists – they treat you like toddlers – here you eat, here you swim, here you take pictures, here you do snorkeling, a bit irritating, as I don't do tourist.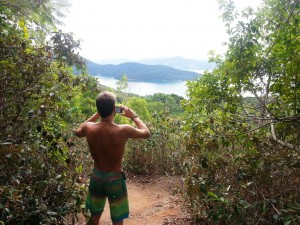 Reflecting a bit more on the disconnection with P. He kept insisting on how our lives are so different, as an excuse for not travelling together. It's true, he lives on the streets at times, maluco de BR, eats whenever when he manages to sell his brincos, he doesn't even have a SIM card now, let alone bank account. He enters things for free and connects immediately with fellow street folks. I'm far from being wealthy – I've grown up actually poor, raised by a single parent not being able to afford much. Compared to some of my friends, I am still poor – I don't have my own place at 34, don't have a car and can't afford to take a sabbatical, probably not even half year off. But I can afford some things – like a plane ticket to Brazil, some festival passes and checking in a nice room whenever I feel like taking a break from camping. I do enjoy some degree of comfort and the "luxury" of feeling safer as a lone female traveler (e.g. not hitchhiking my way up). Anyway, I'm just speculating that the hetero-perception of class difference was just an addition to the confounded rationale.
Sunday, May 15, Rio de Janeiro
Last two rainy days in Ilha Grande spent again deciphering local relationship codes – I was deemed a "player" because I can be friendly towards male companions, which obviously instils expectations, and then not engage/ or engage with someone else entirely.
Currently recovering from a night out partying in Rio until the sun was up. Accidentally tapping into some local poly drama involving my friend, her ex and his current lover, stirring up some interest which I (un)gracefully declined. Somewhat surprised of the mixture of new relationship consciousness and full-on conservative type patterns – like lack of negotiation and respect for boundaries, messy engagement with everyone and hitting on all that moves in the circle, all or nothing approach to physical contact and intimacy – not for me. A small hit of m. (which I took to open up emotionally) made me realize how blocked I actually am, something quite rare for me. If anything, I am able to feel my emotions entirely, pain included. Not this time, there's a dullness, a strange lack of communication and flow through my emotional body, I guess, part of processing the separation from P.