Sunday, 8 May 2016, Paraty
It's been almost two months since the new disenchantment of the world and the new split between mind and the other stuff, now at the expense of the other stuff. The Skype conversation with A. today helped, he stressed out the importance of having a framework, a structure for integrating various spiritual experiences, the importance of guidance through a path, by others with more knowledge and wisdom. Otherwise, the spiritual bypass that's likely to occur through chasing various spiritual highs will eventually take its toll. Yeah,OK. Now what. I still have no clue how to make my rational, cognitive mind communicate and harmonize with the other side, with the emotional, intuitive, even spiritual side (though I'm less in the mood to allow for the gooey stuff to run naked on daisy fields). How to make peace between the right and the left side of the brain.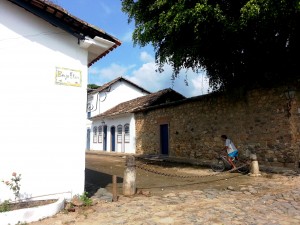 Had a super-antisocial week in Sao Paulo, although I was glad to be back – to rediscover the awesome fruit, atemoya, goiaba, açai and the familiar places around Paulista, to see my colleagues, even to do the commute from the center to the business quarter of my office – luckily F. was as sweet and accommodating
as I hoped and was not affected by my gloomy, wet-blankey disposition. The ups and downs of glycaemia are still draining. I was supposed to reach Buenos Aires, going south, but the southern hemisphere is approaching winter. So instead I decided to go north, birdlike, following the summer.
The super unreliability of P. is less upsetting than expected. We were supposed to travel together, for several days he's been making excuses not to show up. A big fucking whatever dude. The freedom of being self-reliant and of not depending much on just one person: other people can step in…
Later in the day, Paraty
He did arrive…
Tuesday, May 10, 2016, Angra dos Reis
…only to spread his lack of reliability all over the place. It did hurt, in spite of defence preparations. We've parted ways, he wanted to go alone to fazer a sua historia, viver sua vida. I went north. We might meet again, but that's highly unlikely. Fortunately, years of handling hurting and disappointments, plus the epic relationship disaster with E. have magically shortened the mourning period after each blow, leaving me clean and ready for new heartbreaks. I would not want it any other way. I'm simply too old for long vigils.