The work part
On my way of becoming a truly mobile social researcher, after a second post-doctoral position in Brno (CZ) at the Institute for Research of Children, Youth and Family, I have decided to venture into the territory of independent work (research consultancy), with a first collaboration with CETIC.br in Sao Paulo, Brazil.
I am constantly looking for new exciting projects at the intersection of sociology/ social psychology/ media studies with a strong intervention or advocacy component, and am mostly drawn to qualitative cross-cultural projects, ethnographic work and auto-ethnography (e.g. my own status as a researcher). I prefer mobility, flexibility and short-term collaborations on specific projects to rotting indefinitely in an office building somewhere. I am open to working with researchers and professionals in research institutes, government, NGOs, media, industry/business, education, social services etc. In an effort to increase the reach and utility of academic social research, I am more interested in popularisation of social science through user-friendly outputs than in APA style articles (American Psychological Association) and IF (Impact Factors).
Previously to my position in Czech Republic, I had completed another post-doctoral fellowship on children's rights in Dublin with the Centre for Social and Educational Research at Dublin Institute of Technology, where I coordinated a survey in 7 European cities on children's play (practices, children and parents' attitudes towards play) while conducting fieldwork in several schools in Dublin area. I have been the national contact for Romania in EU Kids Online (2009-2014) and member of the Romanian team in Net Children Go Mobile (2012-2014); my involvement in both projects included coordination of the Romanian team for EU Kids Online, coordinating and conducting fieldwork in Romania, data analysis and reports editing (here and here), collaborations for reports sections or book chapters, to name a few. I am currently conducting a new research project in Romania about the quality of friendship for adolescents in the age of social networking sites (2015-2017). I have a bachelor degree in sociology, a master in Social communication and public relations, and a doctorate in sociology (thesis on Social representations and discourses about online risks for children, September 2010).
The non-work part (a.k.a personal and fun)
I don't do monogamy – my alternative relationship style is a mix of polyamory, solo-poly and relationship anarchy. Beginning of 2015, I have started a Facebook group for people open to non-monogamous relationships (Romanian language) and began to organise workshops, discussion groups and sometimes cuddle parties. So far there are meetings happening regularly in Bucharest and Cluj-Napoca. Spontaneously, several people have sought my advice about how to handle their own relationships, which makes me think I'd be good at un-couples counselling – advice for people practising non-monogamy (keep tabs on this one, it's one aspect of myself I am keen on exploring).
I am heteroflexible, kink- and BDSM-friendly, although my interests in terms of sexual explorations have swayed towards tantra, of which I am somewhat a difficult student. Another interest of mine is spirituality, although I am not one of those people and I'd probably recoil at mere sight of New Age-y we are all love and light stuff. For the moment I'm interested in shadow work and shamanism and discovering my own superpowers. I dance and sing – some have said in many occasions I should do this more (when I am in my home town for longer periods, I might perform in local bars). Gypsy, flamenco, oriental stuff – mostly trying to forge my own dancing style.
I was influenced by the European Burners community. I attend festivals and parties with people who feel free to be themselves, including naked, silly, playful or any other way childish, sensual and sexual. Free. I hold a liberal view on drug use for expanding awareness and consciousness, sensory perceptions and interconnectedness.
Integration
Over the years, I have grown weary of the separation of life between work and non-work, of drawing division lines between different publics, of being concerned with what is appropriate to share of myself with others. I am currently working on a personal manifesto to elaborate on my ethos. There is nothing of myself I deem inappropriate or shameful, and I trust those who appreciate me to self-select themselves.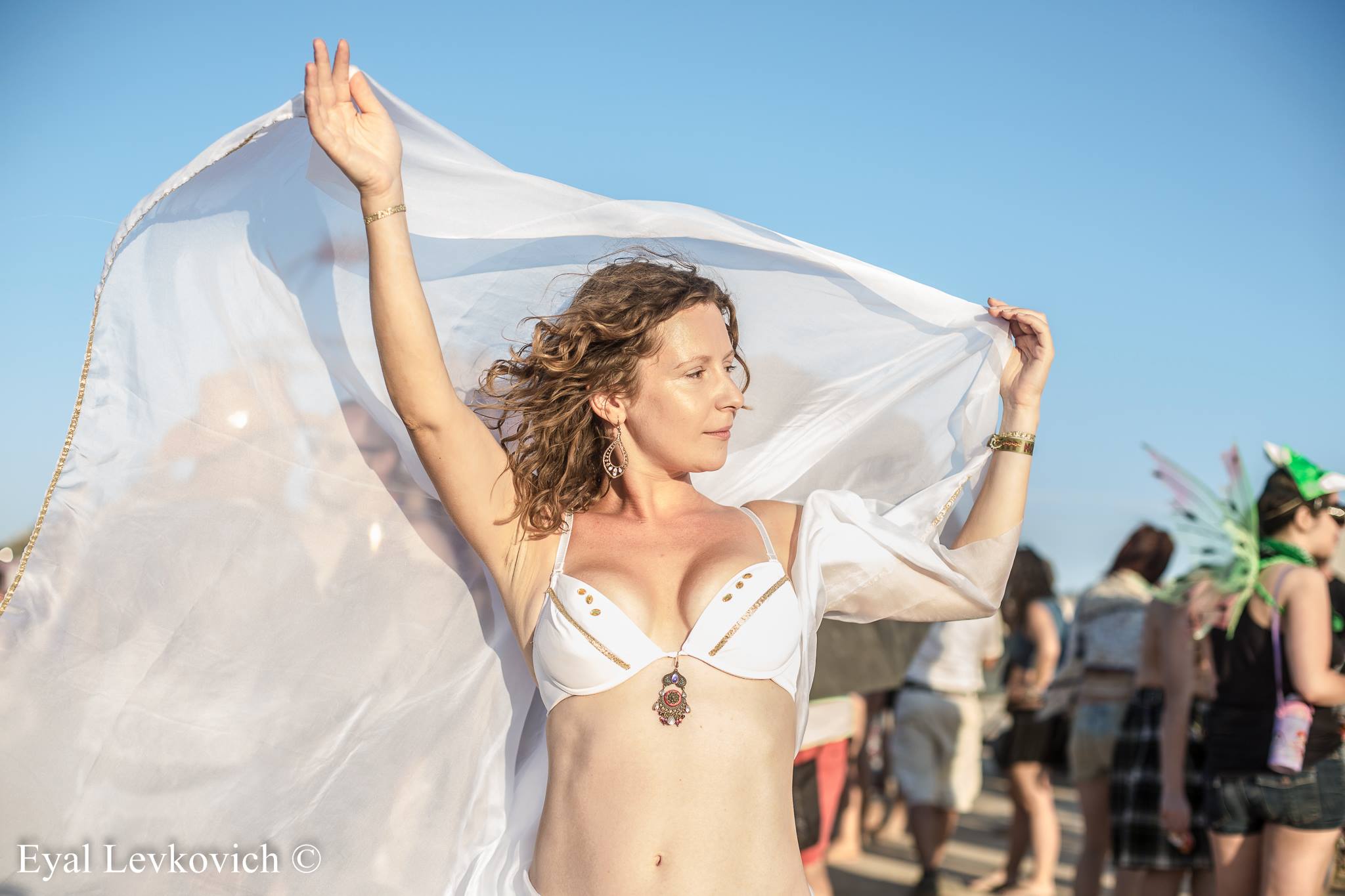 Photo of me leading a parade at Nowhere 2015